MS Windows – is there a more controversial operating system? Everybody seems to "hate" it, but yet, one way or the other, it seems we can't live without it. Vista was a disaster (guess why I know), but is Windows 7 really that good as its heavy marketing tries to make us believe?
In this guest post, Bob Newman shares his experience with Windows 7 compared to Windows XP. Enjoy.
Bob's View On Windows XP Better than Windows 7
I have been using Windows 7 for more than one year since it was in Beta stage. It works well but I feel it is yet lack of something so I keep dual system of Windows XP and Windows 7 and often switch them to use. In fact, Windows XP is not bad and even better than Windows 7 in a way. At least my mother likes it very much because it's simple and practical. The followings are some of my views on Windows XP better than Windows 7. Will you agree with me?
My Mother Prefers IE6
Unrealistic caricature
IE8 is almost the representative of Windows 7 and IE6 can not run on Windows 7. Although the international has loudly appealed for giving up IE6 since IE6 has numerous faults and bugs, there are still many fans for IE6, which indicates IE6 is still in demand. My mother likes IE6 because only this one can normally display the background system of her company. Yes, all of us ignore a problem that many websites especially the background system of some companies can only support IE6 for various reasons. I think it's better to solve some fundamental problems in using IE6 when some companies and organizations are crying out against IE6.
Keyboard Is More Efficient than Mouse
Shortcut keys—I think people who are used to using Windows XP are quite familiar with them. They greatly improved the work efficiency in "no Windows 7 age". After Windows 7 came in, Microsoft claimed that the Preview Window would be favorable to save work time, which is not the truth. Actually, the Preview Window just transfers more work to the mouse. Is this dazzling feature really more convenient for use than shortcut keys? Here I quote my mother's words: It's so dazzling that I feel dizzy.
Software Compatibility
No matter how good Microsoft claimed the compatibility of Windows 7 was, the compatibility of Windows XP is much better than Windows 7 in fact. Indeed, it is quite smooth to run games on Windows 7—but the precondition is that the game is compatible with Windows 7; otherwise, it does nonsense no matter how smooth the running speed is. In contrast, the compatibility of XP is much better than Windows 7. Few programs fail to run on XP unless something is wrong in the system itself.
Hardware Compatibility
Black screen
The hardware compatibility of Windows 7 is the basis of software compatibility. Some games can not run on Windows 7 largely because of the hardware compatibility problem. Now we can still see posts to seek for helping solve the problem of screen flicker or black screen under Windows 7 in some technology forums from time to time. In fact, Windows 7 is not compatible with the video cards of many laptops. This has not been verified by relevant organization or institution but really many people have met this problem including me.
About System Halts and Blue Screens
Blue screen
We may seldom meet system halted in Windows 7 while we have deep impression with system halted in XP, so we take Windows 7 not halted for granted. However, the truth is Windows 7 system also halts and it's more difficult to solve than XP. For example, the familiar apparent desktop death in XP—you may solve it by restarting, but if you solve it in this way for Windows 7, the computer dies thoroughly which is the only result. For the blue screen problem in XP, you may easily solve it by learning from some Windows tutorials or just resetting the computer hardware, but if it suddenly becomes blue screen in Windows 7, what will you do? Most of the users can only reinstall the system and the problem may still exist. Someone said these problems had something to do with the hardware compatibility.
Absolute Change of Interface
It took me an IT worker one and a half years (from the Beta stage) to come to understand Windows 7, then what about the users who don't understand computers so well? To change from XP that is used for 6 years to Windows 7 that is totally different from XP in style? One representative of such users is my mother who always asked me to change back to XP for her. For XP users, the change in Windows 7 is too big. Changes are not only in the operation interface and the function position but also in the function name, which are big obstacles for ordinary users. Perhaps someone will say: you can use dual system of Windows 7 and XP, but I tell you a truth: to run dual system of Windows 7 and XP on a machine with top configuration is definitely much slower than to run XP only.
Fatal Fault
Just scratch the surface
Microsoft's customer service—a fatal fault of Microsoft. It's an absolutely bad suggestion for you to call Microsoft's customer service when your system doesn't work. In XP age, they might solve some problems but in Windows 7 age, they almost become sales. Your system problems are also nightmares for them.
Summary
In my mother's words: Change back to XP for me!
Are You Ready to Maximize Your Windows Experience?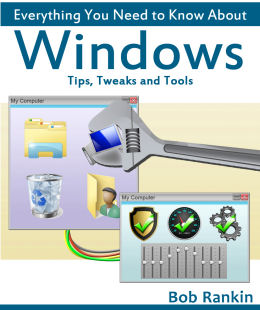 If you're like most people, you want your Windows computer to go faster… to boost your productivity… to protect your privacy… and of course keep you safe both online and offline. But Windows doesn't always make it easy to achieve those goals.
You want your computer to run like a top. And when something goes wrong you don't want to call a geek. You want to fix it tweak it tune it or upgrade it yourself – for FREE or at least on the cheap.
If you've ever been frustrated by Windows problems, I recommend that you read this ebook.
Make XP Even Faster (and More Secure) by Getting Rid of Unnecessary Stuff
Is your computer running slow? Are you getting problems with your applications? Perhaps your internet browsing has become slower?
Maybe it's time to clean up your system!
XP Windows Cleaner is an all in one Windows system cleaning tool. It scans your computer very quickly for redundant files, temporary files, internet and application history (MRUs), cookies, cache, memory, registry and random junk. It will then give you the option to remove it. Keeping you safe and your computer clean.
About Bob:
Bob is a freelance writer and software developer for DVD Ripper.
123 Comments